Rent The Stable Masters House
Hyr Stallmästarbostaden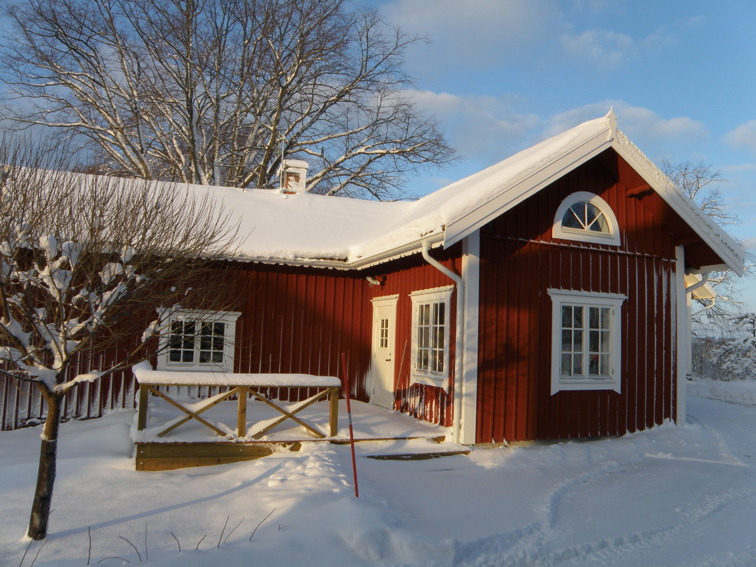 Peace and quietness or experience Stockholm
Lugnet på landet eller Stockholms storstad
If you planning to visit Sweden you are most welcome to rent Stable Masters House at Öllsta Farm. We are located at the countryside in the beautiful vally of Kiladalen west of Nyköping City and not far from Stockholm Skavsta Airport. The farm is located just outside the large forests of Kolmården and near to the stunning archipelago of the Baltic Sea. Many of our foreign guests express that the greatest experience was the peace and quietnes at the farm, but there is much to see in the countryside. But if you want to go to the capital city it´s only one hour drive to Stockholm City.

The farm has horses, a dog, cats and a chickenhouse where you pick your breakfast eggs. You live very close to nature and can spot deers and moose comming out from the forrest. Nerby there is nice tracks in the forest with with good opportunities to make a fire and roast hot dogs, kids usually love it. Other things that can be arranged are archipelago excursions with our own boat and see eagles, razorbills and maybe some curious seals. Otherwise just sunbathe and swim from from your own uninhabited island. During the trip will learn the basics of how to navigate at the Baltic Sea.

För dig som känner att du behöver komma ifrån storstadens puls så är ni välkomna att boka in er i Stallmästarbostaden här på Öllsta Gård beläget i det vackra Kiladalen väster om Nyköping. Här råder lantligt lugn i närheten av de stora Kolmårdsskogarna. Huset är fullt utrustat för att du, din partner och kanske barnen ska komma närmare varandra med lite mys i stugan.

På gården finns hästar, katter och en hönsgård där du själv plockar dina frukostägg. Närheten till naturen ger också ofta upplevelser när skogens innevånare kommer ut på fälten för att söka mat eller genom sköna promenader längs Sörmlandsleden med korvgrillning och annat som ungarna gillar. Annat som kan arrangeras är skärgårdsutflykter med vår egna motorbåt och se Havsörnar, Tordmular och kanske några nyfikna sälar. Annars bara sola och bada från
skärgårdsklipporna samtidigt som man under resan får lära sig grunderna i att navigera på sjön.

Många gäster besöker förstås också
Komårdens djurpark som ligger bara
25 minuter bort.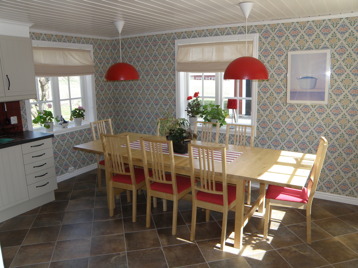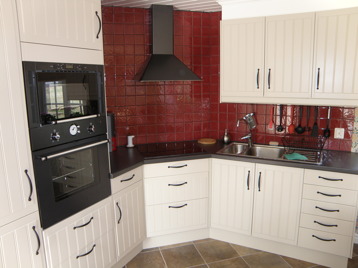 Fully equipped kitchen
Fullt utrustat kök
Freezer, Fridge, Micro e t c
Frys, Kyl, Micro mm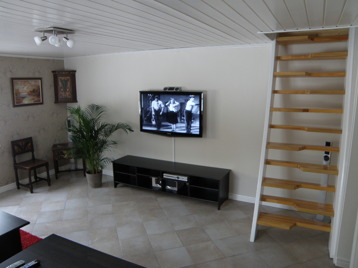 2 duble bed sofas
2 dubbelbäddsoffor
TV-set and free WIFI
TV och fri WIFI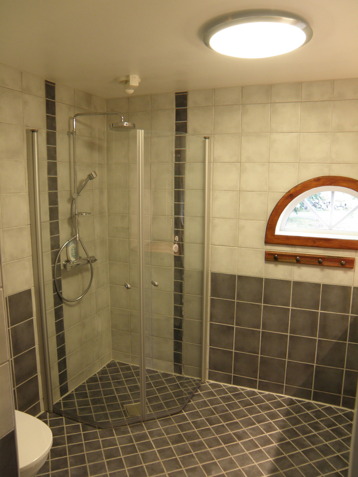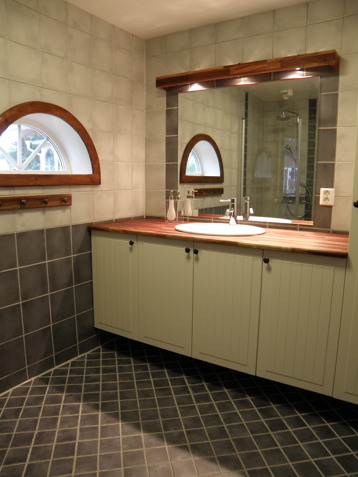 Bathroom with shower
Badrum med dusch
Towels is included
Handdukar ingår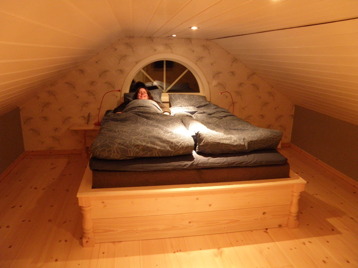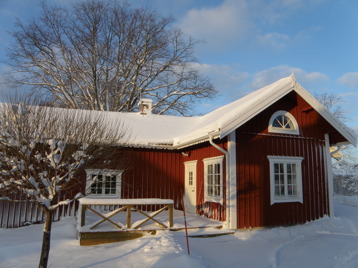 Duble bed at the loft.
Dubbelbädd på sovloftet
Bedlinnen is included
Sängkläder ingår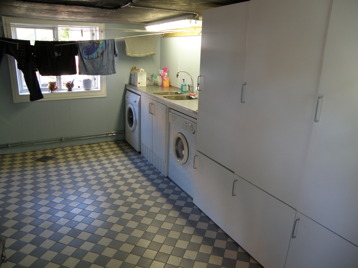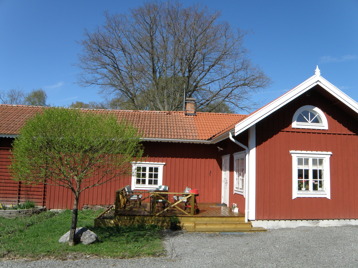 Access to laundry
Tillgång till tvättstuga
Patio with barbecue
Uteplats med grill

We recommend guests from other countries to fly in via Stockholm Skavsta Airport with Ryan Air or Wizz Air. Really cheap prices if you book 6-8 weeks before arrival. At lowseason you can have a returnticket for less than 50 euros!
Comments from previous guests / Kommentarer från tidigare gäster
X-mas at Öllsta. We had a splendid stay and just loved both the cottage and the sourronding enviorment. Hope to see you soon again!

Alex, Helene, Julia and Simon
________________________________________

Great two relaxing weeks. Great hosts, especially accompanied by the dog Egon. Good recommendations where to go to experience Sweden. Very nice in the archipelago and the dinner at Stegeborg together was great. We will come back soon, maybe for Christmas.

Ulrike and Michael from Ratingen
_________________________________________

Öllsta is the perfect place if you want to silince and a relaxing time. We did several trips to STockholm and the surrounding countryside. We are now in love with Sweden.

Patricia and Klaus
_________________________________________

We had a great boattrip to Stendörren, lunch on an island and took our first bath. We also tried stand up paddling at Rinkebybadet, also the sandy beach at Jogersö. It was a consert with Darin and other great artists in Nyköping Harbor. We also tried to learn more swedish and use the lokal newspaper for that. We have been here bofore and we will be here again 2018!

Eckart Schlichthaber with family
_________________________________________

Tack så jättemycket för en fin vistelse. Vi trivdes väldigt bra med dessa vackra omgivningar och i den mysiga stugan. David blev helt kär i hunden och överkom sin hundskräck han haft sedan flera år. Vill även tacka för alla tips och för att vi fick låna GPS:en som en smidig guide till fina ställen.

Familjen Lindgren från Västkusten
_________________________________________

The cottage is very comfortable and nice. We are thankfull of the welcomming here. The boattrip with captain Henrik in the archipelago was fantastic. Hope to be here again soon.

Hana and Lazy Stern from Israel.
_________________________________________
Thanks a lot for these nice days at Öllsta. The hospitality has been excellent. The environment and the house are beautiful. We loves Egon and the horses are beautiful. The eggs every morning were a nice gift.

Eric, Lourdes, Carlos, Alfonso and Macleron from Spain.
_________________________________________

Så härligt att komma hit igen och andas in lugnet. Vilken frihet och lycka för barnen (och vuxna) att bara kunna springa ut i trädgården och kunna plocka vad de ville av goda päron, plommon, tomater mm och att på morgonen gå ut till hönsen och själv plocka sina frukostägg. Att kela med Egon och kolla på hästarna var också toppen - riktigt lantliv!! Vi tillbringade två dagar på Kolmårdens djurpark.

Familjerna Rönbeck och Harju/Polnäs
_________________________________________

We had two weeks here in July with best Swedish summer weather. Landlords give us god tips and it is a great house. Our kids love Egon and the chickens. Trips to the coastline, for example Stendörren and the boattrip in the archipelago was the best. We love Sweden and will probably be in your country soon again.

Göthel family from Amtsberg, Germany
________________________________________

We are very pleased that we have found this beautiful place for our first trip to Sweden. The house of Katarina and Henrik is well tended and cosy and the hosts were very spympathic and generous.

Sandy, Stefan and Enna.
________________________________________

We stayed at Öllsta Farm during Easter and joined on of the most beautiful places we ever visited. The house is so nice and cosy. The nature is so beautiful. The car GPS that was included in the rent was programmed with nice places to visit and was very helpful. We also visited Stockholm City but to come back to the countryside was the best.

Mattias, Cathrin, Jannis and Julian from Germany
________________________________________

We have had a wonderful time here. We have been on some great adventures in the forest. We went to the local beach, which was an amazing frozen lake, truley spectacular. We have completely fallen in love with Sweden and cannot wait to come back and explore more. We also had a nice meal at Oliwer Twist and wiched we had more time to explore Nyköping. To borrow the car GPS was exellent, programmed with lots of fantastic places to visit. We also went to Stockholm City, which was a bit further than we thought, about 1 hour 30 min. It was nice but we couldn´t wait to get back to the farm. Complete tranquility and comfort.

Carlyon family from UK
------------------------------------------------------------
Hello, my name is Emma and Icome from France and I´m 12 years old. I´m here with my family. This house is very very good. Bye bye . . .
-------------------------------------------------------------
Arriving from Germany and landed shaken because of the big storm with over 30 m/s. The electricity power in the house had disappeared because of the storm, but with kerosene heating and a lot of candles we afforded a super special warm and romantic feeling. The power went back next day and we had a fantastic time here. Comming back from our daytrips, was like comming home. We love Kalles Kaviar and your fresh eggs for breakfast. We also love your dog Egon. We will come back!

Christian, Boris, Sonja, Marina, Jetha and Kai from Germany.
_______________________________________
Thank you for a wonderful stay. Your farm is beautiful and peaceful. Our boys loved seeing the animals and gathering eggs for breakfast. We hope to stay again and we can rally recommand others to book your house. The car GPS prgrammed with places worth a vistit was such a help for us!

MaryBeth and Cameron Bradly from United States.
_______________________________________
Thank you so much for a wonderful stay on your farm. This place is absolutely beautiful and we enjoyed every single secound. Also a big thank you to you Egon for making us smile every day.

Lots of love from England. Kack. Matt, Kirsty and Matthew.
_______________________________________
We just came here for a few days on our way to Åland. This place is wonderful, the animals particulary Egon where so nice. Fresh eggs every morning, great!

Annika, Torsten and Linnea from Germany
_______________________________________
Tack för tre underbara dagar på Öllsta Gård med frisk luft, fina hästar och svampplockning. Vi tackar för gästfriheten.

Kramar från familjen Hellbom - Lundberg
_______________________________________
We had a wonderful stay in this cozy place in the middle of the swedish nature. Especially your dog Egon made us wake up with a smile every morning. He layed down on our porch and waited for us to come out, he is so cute!

Alex, Olga, Elena and Tajnana från Germany
_______________________________________
Bilo to tu super, Kra'sna' pryboda a ubtiovatele' jsou miu a s'trasne pohostinni.

Ondra, David, Klara, Jan and R from Czech Republic.
_______________________________________
We have enjoyed our stay at the farm. The house is very clean and nice. We made a lot of daytrips, one
day in Stockholm and one day in Eskilstuna. The trips have been very interesting. You have a beautiful
landscape and a lot of nice lakes.

Nico and Winfried
_______________________________________
We had a amazing time in Sweden, This place was perfect for us. We will come back to this beautiful country.

Frieda, Olaf, Susanne, Paula and Marie from Cremlingen, Germany
_______________________________________
We just stay for a few days. Your car GPS programmed with nice places to visit in the area helped us a lot. The children loved the chickens!

Best wishes Slooten family, The Netherlands
_______________________________________
Last time we had a fantastic week here at Christmas with -20 degrees. Now we had a wonderful summerweek with +20 degrees. It feels like home when we are at Öllsta. The best this time was the trip in the archipelago with Henrik. The island Bredskär where we made a fasy chickensallad and also found a ded seal. Also to pick 3 baskets of Kantarell muchrooms, they where very delicious. Looking forward to come here again, soon . . .

The Schlichthaber family from Germany.
_______________________________________
A wonderful two week stay at Öllsta. We have all enjoyed collecting eggs for breakfast in the chickenhouse and fruit and salad in the garden. The countryside was stunning and swimming in the lakes and at Baltic Sea were a highlight. Thank you for taking us out on your boat to se the archipelago. The girls lovbed driving the boat. We will miss Öllsta but most of all we will miss your dog - Egon.

Alex, Tim, Caroline and Rebecca from St Albans, England
_______________________________________
Thank you for this 10 days at Öllsta Farm. The car GPS programmed with nice places to visit (included in the price) has helped us a lot to explore the area. Your animals were so lovely. In our world we have a lot of problems, but at uyour farm you are able to forget and relax, spending time with the family, the animals and a wonderful country to explore. Hope next visit will be soon . . .

Tack så mycket! Family Ferdrich from Xenten, Germany
_______________________________________
Tack för dessa två underbara dagar. Skönt att komma ut på landet ett tag. Mysig gård och väldigt fin stuga att bo i. Vi har trivits jättebra och återkommer gärna.

Malin, Andreas, Noah, Nellie, Monica och Lasse från Kristianstad.
_______________________________________
Tack för en underbart bra stuga och för er stora gästfrihet. Underbara ägg till frukost, tvättmöjligheten, lugnet på landet och för hunden Egons närvaro. Våra hundrädda barn är näst intill botade.

Susanne, Peder, Alva, Elias, Gun Britt och Lage Häggström från Foppaland.
_______________________________________
Tack för tre härliga dagar! Barnen på 2 och 5 år skickar en extra hälsning till hunden Egon.

Göran, Evelina, Anders, Edvin och Ture från Borlänge.
_______________________________________
We have had a vice time over here. Te weather conditions are getting better. We enhoyed the dog Egon very much and he joined us for short and longer walk through the beautiful surroundings.

Kees and Corrie vand der Straten, Netherlands
_______________________________________
Thank you for the wonderful time here, you were fantastic hosts. We particulary enjoyed the boat trip in the archipelago and the picknick at the beautiful small island. Jenny would like to thank you for the boat driving/navigating leassons. We will miss your amazing farm especially the dog Egon.

Wvelyn, Jenny, Celina and Audren from Germany.
_______________________________________
We very much apprieciated Henrik and Katarinas kindness, the comfort of the house and quietness of the place.

André, Joselte and the grandchildren Louise and Antonie, from Lijon France
_______________________________________
Vi tackar för gästfriheten i denna lantliga idyll. Åt ett otal ägg från era höns, det blev både frukost, omelett och sockerkaka. Fina djur och vackra hus.

Ann Sofie, Christer och Anna Lena, Lundbyberg
_______________________________________
Thank you very much for the stay, we had a lovley time here! the cottage and the landscape are absolutely beautiful. We also love the dog Egon.

Brigitte, Stuart and Sophia from Germany and Scotland
_______________________________________
Tusen tack för en fantastiskt trevlig vistelse hos er. Vilken underbar stuga! Nu blir det ytterligare en dag på Kolmården.

Jenny, Calle, Rut, Viode, Richard och Margaretha från Örebro och Visby.
_______________________________________
Kitos Katarina ja Henrik. Vietimme kaksi upeaa pivää kaunissa maisemissa.
_______________________________________
Though we spent only one day in this wonderful house, it was a great time for us. The house is just a dream! It is spacious, well decorated and so nice. We truly loved it. And the surroundings are inspiring and calming. Our morning jogging through the fields and the forest made our day. We hope to come back one day and to spend much more time in this wonderful place.

Andrey, Natalia and the kids.
_______________________________________
Vi vill bara säga att det var en underbar vecka här på Öllsta. Det är så lungt och naturskönt.
Sköna skogspromenader och avkoppling. Tack så mycket!

Michalina, Mathias och Jadnige from Germany.
_______________________________________
Tusen tack för en riktigt härlig helg i er fantastiska stuga! Vi har alla njutit av er fina trädgård, goda ägg, fina hästar och underbara Egon. Vi kommer gärna tillbaka.

Anna, Peter, Saga, Viggo och Eddie från Karlskrona
_______________________________________
We had a nice stay in Sweden, is a nice country to visit, with very different landscapes than in France. Thank you for your hospitality and your welcome on the farm. The house was pleasant and the environs were soothing. We hope to return to Sweden and particulary to Öllsta Farm.

Ahmned, Christine, Yasmine and Jazil from Lille, France
_______________________________________
The house is very cozy, combining thechnology inside with countryside scenery on the outside. We were 6 people. They provided clean bed sheets and towels for all of us. The kitchen is equiped with all the kichenware needed. Wi-fi worked just great. The surroundings are absolutely relaxing, green fields everywhere, nice Swedish breeze, colourful landscapes, one old-school swing, flowers and horses to dress it all up. '

Breakfast was just awesome, we picked up the eggs right from the chickens house, good coffee also available. Henrik and Katarina have a big white friendly dog, two cats and several horses. After breakfast, Katarina gave us a ride with her own beautiful black horse, that put even a bigger smile on our faces and ompleted a wonderful experience. Meanwhile, she told us a bit of the farms history and their nice daily life there. Finding a place the place was a bit difficult, since there are no street names nor numers. But the owner picked up the phone when we got there, close to midnight, and directed us to the location.

Adrian with family from Romania
_______________________________________
Thanks for this fantastic place! We were completely dis.co.nected :)

Yussef, Nasser, R and little Yasmin from Stockholm
_______________________________________
We really enjoyed our stay here. The rome is amazing

Meri beaucoup

Celia, Julin, Verginie and Migou, France
_______________________________________
Tusinde tak for enfantastisk dejlig uge. Vi vil savne Egon, hesterne, katterne, de seks elg bag stabile - ja det hele. Som kompensation för er hund måtte vi idag kope en hamster til vores yngste pige Molly. Den blev upkladt efter Egon.

Jess, Max, Molly og Malene from Köpenhavn
_______________________________________
"Tack så mycket" for this wonderful stay here at Öllsta Farm. We like this greate and cosy cottage and for the wonderful Christmastree. We enjoyed also the taste of "julmust, pepparkakor and lussebullar". Henrik and the and the lovely dog Egon took us to the coastline and we made a delicious barbecue. Aftherwards a nice walk along the cliffs of the fjord Bråviken. Under our stay the temperature went up and down. - 19 one morning, a few days after +7 degrees. We build up a snowman. Also thanks for the New Year supé with "kräftor, räkor, chips and glass". This was our best stay in Sweden and we have allredy booked the house for this summer.

Eckart, Delfina, Lina and Noha from Bargteheide, Germany
_______________________________________
Fantastic cottage and surrounding, very hositable people. Woul like to return for a holiday sometime soon. Thank you for everything.

Chirs and Derek from UK
_______________________________________
Tack för ett jättefint boende under Sverigecupen i handboll. Vi stortrivdes och kommer gärna tillbaka i framtiden, kanske kombinerat med en utflykt till Kolmården.

Familjen Haglund
_______________________________________
Skrivarkollo i stugan vid vägens slut. Vilken helg, vilken stuga, vilket gäng, vilken man och vilket skrivar-flow. Fantastiska dagar fyllda av kreativitet, svampplock och glada skratt. Hyresvärdarna har gjort det så hemtrevligt och inbjudande att vi gärna kommer tillbaka!

Rina, Anna-Lena, Kerstin och Tommy.
_______________________________________
We truly enjoyed our stay in Sweden and in your cozy cottage. Beautiful country with a fantastic landscape. Well done for the wonderful organization!! it made our trip easier with your GPS stuffed with interesting places to visit.

5 friends from Italy.
_______________________________________
It´s our last day and our hearts cries. Bye, bye Sweden, see you soon!!

Monica and Maurizio from Italy
_______________________________________
We had a wonderful stay at Öllsta Farm, what a wonderful cottage! Greetings also to Egon our new furry friend.

Frank, Daniela, Marcel, Julia and Linus from Stuttgart
_______________________________________
You are very nice people and your hospitality is limitless. Se will see each other again.

Ninni, Lina, Jessy, Lerise, Jan and Furry
_______________________________________
Tak for et dejligt ophold på ieres fantastiske sted. Vi har nydt det meget. Vi har sarligt var glad for Egon, isar barnene. Vi kommer helt sikkert igen.

Jacob, Tanja, Isabella og Magnus fra Danmark
_______________________________________
Vi har haft 3 underbara veckor här på Öllsta Gård. vädret har varit som vid Medelhavet hela tiden, 30 grader varmt, och vi tillbringade mycket tid i den fina svenska naturen. Henke tog oss till exempel på båtutflykt i skärgården, det var jätteskönt! Vi lärde också känna Egon som en fantastisk hund. Vår hund Duva och barnen kommer att längta efter honom.

Familjen Obrist från Schweiz
_______________________________________
Thank you to let us be here for five wonderful days in your lovely house! Good service and nice weather,
24-29 degrees and sunny all week. Egon (the dog) we will miss you so much!

Walther/Schröder family from Rostock, Germany
_______________________________________
Tack för en fantastisk vecka på er gård. En jättefin stuga perfekt för en barnfamilj, här finns allt man behöver.
Vi uppskattade även att få låna er GPS som tog oss till resemål i närheten. Det har underlättat och vi har sett
mycket fint.

Anna och Hans Martinsson med barnen Alicia, Joel, Axel och Wilma från Gnosjö.
_______________________________________
Tack för en helt underbar vecka. Jättefin stuga och många djur. Barnen har varit jätteglada.
Vi kommer gärna tillbaka.

Stor kram från Gertie Hägg med familj från Bara
_______________________________________
Thank you for a lovely stay in your beautiful house. We have very much enjoyed our time here in Sweden. Highlights being the Bråvalla Festival and the trip on landlords boat to see the spectacular archipelago. The farm is tranquil and the fresh eggs have made a good breakfast each morning. We have also adored Egon and hope to return soon!

Paula, David and Emmeline from Chester, England
_______________________________________
Vi tackar för en underbar vistelse här på gården. Härligt att plocka färska ägg på morgonen och härliga Egon som låg dörrvakt utanför stugan. Vi har varit och inventerat fiskarter i vattendragen här runtomkring. Vilka är viktiga värdarter för den utrotningshotade Kammusslan.

Biologerna från Karlstad.
_______________________________________
Tack så mycket för ett jättemysigt ställe och fantastisk stuga. Kommer gärna tillbaka.

Rune och Els-Marie, Peder och Anne.
_______________________________________
It was a very peasant stay in this gorgeous litle house. We loved your fresh eggs and your loveable dog Egon and the landscape. Perfect that you have washingmachine available for you guests.

Katharina, Manfredt and Thomas from Flims, Switzerland.
_______________________________________
Super Lokation, perfektes Umfeld. Beste Erholung, nette Besitzer

Ada + Patrick from Switzerland
_______________________________________
Tack för en trevlig vistelse. Vi har njutit av goda ägg, Egon och fint väder i en trevlig stuga.
Egon blev nästan kidnappad av våra barn, men vi hittade honom i bakluckan när vi skulle packa.

Familjen Opel från Sundsvall
_______________________________________
Efter att ha cyklat från Nyköping har vi haft en mycket givande kick off med trevlig samvaro och en god natts sömn i denna trevliga stuga med härlig omgivning. Nu är det dags att cykla hem igen och tackar för denna gång. Egon och de andra djuren hjälpte också till att höga mysfaktorn.

Kvalitetsavdelningen Schneider Electric
_______________________________________
We had a very short, but very pleasant stay here. The house is beautiful. Thank you for your hospitality!

Aneta and Giuseppe
_______________________________________
Pellon Ponnen suunnistajien kevätleirillä Uppsala ja Nyköping sendulla. Käytiin heittään muutamia kevätvieestejä 10-milaa silällä pitäen. Kiitos hyvästä majoituksesta!

Tommi, Jyri, Jare, Sami-Peteri - Finland
_______________________________________
Tack för en jättemysig helg med fint väder och en jättefin stuga. Jag har haft en underbar 15-årsdag här hos er. Jag fick även övervinna lite av min hästrädsla. Hönsen och hästarna var uppskattade av de mindre. Vi är jättenöjda med stugan !

Familjen Widén
_______________________________________
Tack för en supermysig och bra stuga. Vi har haft en rolig helg på Bodaborg och Mellofestival på kvällen.

Familjen Bergman och Martinelle Johansson.
_______________________________________
Tack för en jättetrevlig övernattning i fantastiskt fin stuga och omgivningar. Extra plus att få hämta färska ägg till frukost.

Vicky, Ulle, Tom, Magnus och Pelle
_______________________________________
Thank you for the wonderful stay. We all really enjoyed the cosy cottage, the delicious eggs, the amazing animals, the great hospitality and the relaxing atmosphere! We hope we will have the possibility to come back in near future.

Elena, Andreas, Sonia and Clara.
_______________________________________
Tack för en härlig weekend med mycket svamp och bra väder.

Mimi Rudbäck och Kent Karlquist
_______________________________________
Tack för trevligt bemötande. Stugan var jättefin och innehöll allt man kan önska sig.
Vi återkommer säkert fler gånger.

De fem systrarna Maj-lis, Ulla, Berit, Guhn och Agneta
_______________________________________
Tack snälla Katta för en helt underbar kväll/natt. Jättegod mat och många sköna skratt
och soffan var skön. Du har verkligen höjt ribban på våra tjejträffar.

Gina, Monica och Kaija och Maija från SSAB
_______________________________________
You have a very beautiful house, very confortable place. We had a great day here.

Stabnam, Navid, Milad and Fatemeh from Iraq
_______________________________________
Vi hade det jättetrevligt i denna fina stuga. På återseende!

Micke och Sabina och barnen Emil, Lovisa och Fanny.
_______________________________________
Tack för en trevlig vistelse i er jättemysiga stuga.

Familjen Forsberg-Alfredsson och familjen Trolläng-Evaldsson
_______________________________________
It has been an amazing day in this house. Everything is so beautiful. Thank you very much!

Marga, Martin, Ailor, Emma and Paula from Barcelona
_______________________________________
Tack för den fina stugan vi fick hyra och för den trevliga idyllen och Egon som varit så kelig och god. Nu ska vi tillbaka
till Skavsta och fortsätta att skjuta SM i lerduva. Hoppas vi ses fler gånger.

Torbjörn, Gösta och Krister Gyttorp SSK
_______________________________________
Helt underbart hus och en fantastisk miljö. Dessutom mäktigt skådespel när ett vidunderligt åskväder parkerade
ovanför gården i går kväll. Vi återvänder gärna hit till er vackra plats på jorden. Tacka hönsen för de goda
frukostäggen!

Pelle, Lena och Nicklas Blomqvist från Östhammar.
_______________________________________
Ännu en mycket trevlig vistelse i denna mysiga stuga. Kanonväder och er härliga hund Egon.

Evelina, Göran, Edvin, Ture och Anders från Gävle.
_______________________________________
Tusen tack för en jättefin vecka. Vilket otroligt ställe ni har. Stugan är jättefin och er gästvänlighet får man leta
länge efter. Pojkarna uppskattade att det fanns WIFI. Elisa tyckte det var roligt att plocka ägg och vår lille hund
Twix älskade att jaga hönorna. Hon blev också helt till sig i trasorna av Egons uppvaktning. Men Egon den stackarn
verkar tro att han är tupp. När tuppen i hönsgården gal så börjar han yla. Om vi har vägarna förbi igen så kommer vi säkert tillbaks.

Varma hälsningar familjen Sallander från Holland.
_______________________________________
Härliga dagar i er fina stuga. Två dagar till Kolmården och en dag vid stranden. Mysiga Egon blev snabbt barnens favorit, men nu måste vi tyvärr åka hem mot Skåne och Halland igen. Tack för trevligt värdskap.

Anders, Kristina, Ebba, Nils, Birgitta och Lars-Erik.
_______________________________________
Tack för en fantastisk vecka. Kanonstuga där ingenting saknas. Vi däremot kommer sakna Egon.

Soliga hälsningar familjen Marken, Skåne
This was my daughter favorite holiday so far. She perfered to stay at the farm with Egon than doing sightseeing. She loves Egon and we too! Nice to relax in the garden and enjoy the sun. Walking in the forrest with Egon, pick fresh eggs, fruits and vegetables in the garden. Henrik also took us for a safari at dawn to see boars, eagle, deers etc.
________________________________________

We are 3 families from India on a tour in Sweden. This was our first stay in a Swedish farm. Öllsta made our experience wonderful. Especially our kids. We want to come back for a longer stay in the future to have time to explore the nature more.

Raja Dwarampudi
_________________________________________

If we have the opportunity to come back to Sweden we would like to stay at Öllsta again because it is so beautiful and perfect here. Perfect hospitality!

Lukas and Eda
_________________________________________

Det var en underbar upplevelse att få tillbringa en tid i den mysiga stugan.

Demi med vänner
_________________________________________

Sweden in general is a great country with nice people. And the hospitality at Öllsta was perfect. Wonderful landscape in the area. We will come back.

Andrea and Rudi
_________________________________________

Genarally my mum is afraid of dogs, but it is different with Egon, mum loves him too. It was also nice to pick up fresh eggs every morning and vegetables from the garden. It was a very nice stay and we think about coming back next summer.

Lisa + her parents
---------------------------------------------------------------

We had a very nice time at Öllsta Farm. We liked to play hourse on the fields. Thank ou for the eggs it was very kind. We loved the dog Egon and also the other pets.

Alina, Lara and Emilia with parents from Germany
__________________________________________

Fantastisk Midsommar på detta underbara ställe! Att få träffa alla djuren, särskilt hunden Egon, har varit barnens höjdpunkt. Hoppas på snart återseende.
Marcus, Malin, Mika och Elton
__________________________________________

Thank you for one wonderful week. Thank you for your friendly, kind and uncomplicated way of being. Thank you for the fantastic boat trip and for the programmed GPS which led us to awsome places.

Helen, Rebecca, Klaus and Jon from Germany
___________________________________________

Beatutiful place, friendly dog, comfortable house, equiped kitchen, delicious eggs . . . everything perfect for a pleasant stay. We really recommend to spend some days here.

Bonneau and Rora family from France.
_________________________________________
Tack så mycket för denna fina lugna och sköna vecka i april här på Öllsta Gård. Vi har gjort dagsturer i naturen vid Nävsjön och Femöre. Vi hade fint väder, inte regn som hemma i Tyskland. De färska äggen smakade jättegott till frukost.
Vi kommer tillbaka!

Silke och Sacha från Tyskland
________________________________________
We had a beautiful 6-day stay in October at this gorgeous house. The swedish nature is fantastic! The GPS (programmed and included in the rent) helped us to find great locations. Thank you so much fo having us. We would love to come again - hopefully real soon!

Luca, Nico, Denis and Maria Podleisek, Germany
__________________________________________

We had a wonderful time in your cosy holiday-home. Thank you for the car GPS and all the helpful infromation you offered in the folder. We found wonderful places easily. The hikingtrips in this amazing countryside were exiting and on our tour to Stockholm we explored a beautiful capital city!

Florian, Sabine, Jonas and Verena from Germany.
_________________________________________

Tack för lånet av eran toppenfina stuga. Med Öllsta som bas har vi kunnat vandra etapper på Sörmlands-leden som vi inte gått förut. I fredags Nävsjön runt, i lördags sträckor kring Nävekvarn och Bråviken.

Veronica, Lena, och Emma och våra hundar.
_________________________________________

The 10 days that I have spent here at Öllsta has been a total pleasure. I'm from England but have stayed in lots of different places in Sweden and Öllsta is one of the best. Despite late winter weather, i've really engoyed the peace and tranquillity of this place and exploring the landscape of Södermanland.

Maria Engberg, England
________________________________________

Tusen tack för en härlig vistelse. Här i eran stuga har vi funnit både glädje och ro samt allt man kan behöva. Vi kommer gärna tillbaka.

Familjen Mossberg från Sandviken
_______________________________________
Tack för att vi fick bo i eran underbara stuga. Det är som att bo på hotell fast bättre.

Kramar Maud Windahl och Roland Säll
_______________________________________
Thank you for a very lovlely holiday. W enjoyed being in countryside and the girls were exited about the baby horse and to pick up eggs in the chickenhouse. We spend two days at Kolmården and one day we visited by the sea and girls were swimming in the near lake. Thank you for you hospitality! The house and everything else was perfekt. You have a wonderful place!!

Jenni, Kari, Olivia, Neela and Tatu from Finland
_______________________________________
Tack för en trevlig vistelse och ett varmt bemötande. Tillsammans med fina djur har vi haft en toppenbra helg. Vår minsta hälsar till Egon. Nu styr vi mot Norrland med ett litet stopp i Vingåker.

Familjen Königsson
_______________________________________
Stort tack! Möhippan blev mer än lyckad. Förutom den fantastiska omgivningen och underbara djuren och det trevliga värdparet slogs vi av häpnad överdenna underbara lilla stuga. Fräscht, välplanerad och genomtänkt in i minsta detalj. Det var precis som att komma hem - fast bättre! Hårtork, plattång, paraply och mysfiltar. Vi hade kunnat stanna en månad utan att sakna något.

Johanna, Sara, Anna , Kristina, Anna H och Sarah
_______________________________________
Thanks for the great time here. The house is a very nice place to stay. We will recommend it to our friends.

Haikki and Anu, Mikael, Julia, Eemil and Joel from north of Finland
_______________________________________
Stort tack för en fantastisk vecka. Vi har njutit av den vackra omgivningen och allt fågelkvitter. Underbare Egon, vilken
fantastisk hund! Vi kommer gärna tillbaka!! Hyresvärdarnas omsorg och omtanke var stor.

Mimi och Elisabeth Rudbäck, Stockholm
_______________________________________
Vi tackar för härlig service. Vi har haft ett mysigt dygn här i er trivsamma stuga. Det här är nog inte sista gången vi kommer hit!!!

Vänliga hälsningar Linda, Jonas, Alva, Ella,Johan, Therese och Elsa från Järbo.
_______________________________________
Vi tackar så mycket för tre soliga och jättesköna försommardagar. Louisa, 3 år, älskade ridturen på Lystra! Vi hoppas få komma tillbaka.

Mirjam, Bosse, Birgit och barnen Louisa och Anton.
_______________________________________
Thank you very much for the beautiful and sunny week in Sweden. We like the picknick at Fjällmossen and it was fun to try cross-country skiing. Maybe we meet again at summertime.

Johan, Greet, Hanna and Stÿn from Belgium.

_______________________________________
Vi har haft ett bekvämt, vackert och framförallt fyrverkerifritt nyår. Vi kommer gärna tillbaka när vägarna är isfria så vi kan utforska era skogar. Vi är grymt imponerade över stugan!

Malin, Maria och hundarna Elton, Tiffany och Stick
_______________________________________
Thanks for the great time here. We really enjoy our stay. We will come back for shore! Many greetings to all the animals and specially Egon.

Emelie and Rob.
_______________________________________
Ännu en vecka har jag fått känna mig hemma i denna Öllsta Gårds Stallmästarlänga. Tack Katta och Henke för denna gång!

Björn Gidstam
_______________________________________
Dear Henrik and Katarina, we had a wonderful stay at Öllsta and enjoyed it very much. We shall definitely come back in spring or summer to walk in the forrest and go for a tour with you in the archipelago. Now we go for Stockholm City and the Christmas market at Skansen and maybe the Vasa museum.

Michael from The Netherlands and Irene from UK
_______________________________________
Nu har jag bott på Öllsta ytterligare fem dagar och det är min tredje vistelse. Det bevisar att jag gillar det här stället.

Hälsningar Björn Gidstam, författare.
_______________________________________
Tack för en trevlig helg på landet.

Kattis
_______________________________________
Efter ett kort besök i er fina stuga återvänder vi nu till storstadens myller. Återkommer gärna till lugnet här. Hoppas på att vi hittar lite trattisar att mumsa på i kväll.

Gunilla, Lukas och Jakob samt hundarna Saga och Ramsey
_______________________________________
Tack för denna min senaste och helt oplanerade vistelse i ert trivsamma gäststuga. Tre nätter av lugnt och stillsamt boende efter omfattande dagsturer i det vackra sörmländska landskapet. Jag återkommer!

Björn Gidstam
_______________________________________
We where here for the socond time, and for the second time we are going back to Italy with Sweden in our hearts. Thank you for your amazing hospitality. We will come back again as soon as possible.

Monica with husband from Italy.
_______________________________________
Liebe Katarina, Liebe Henrik, es war wunderchön bie Euch. VIELEN DANK für Alles!
Wir kommen gerne wieder.

Marita + Nils mit Ida, Greta, Elsa aus Olfen, Deutschland
_______________________________________
Tack för jättetrevligt boende och för att vi fick ställa upp husvagnen. Livet på landet var toppen tyckte alla.

Benny, Kristin, Savannah Emilio, Jack, Sabina, Emmly och Jonas från Hällefors och Gävle.

_______________________________________
Efter en dag på Kolmården är det skönt med lugnet på landet. Härligt med en livs levande tupp som plötsligt står på altanbordet. Vi kommer gärna tillbaka till detta trevliga boende men att det då är lite mindre mygg.

Edvin, Anders, Göran och Evelina från Gävle
_______________________________________
Barnen älskade Egon och hästarna. Jättetrevligt att kunna hämta färska ägg till frukost. Tack så mycket för denna gång och hoppas vi kommer tillbaka.

Danne, Jessica, Emma och Oscar från Huddinge.
_______________________________________
Då var vi tillbaka i år igen och som vanligt mysigt och lugnt. Vi fick ett väldigt mjukt, ulligt och gulligt mottagande när vi kom - Egon. Julia grät när hon såg honom för han har varit så saknad. Det blev en god frukost med nyvärpta ägg. Vi återkommer med fler övernattningar för här är så fantastiskt underbart.

Malin, Håkan, Sofia, Julia och Kajsa från Kristianstad.
_______________________________________
We absolutely had a nice time at Öllsta. The house is a realy nice place to stay. Thanks for taking us on the boattrip on the archipelago and get us contected to "the kayaking in the sunset-trip" in Oxelösund. Both a great experience!

Nadine, Nilo, Michiel and Quinten from Belgium
_______________________________________
Tack för ett väldigt trevligt boende. Er stuga är fantastisk! Vi hade härlig semester med besök på Kolmården och såg många idylliska byar. Våra barn älskade eran hund. Han är jättesöt. Vi hoppas få möjlighet att komma tillbaka.

Mikko, Heidi, Elias, Lisa, Else, Juuso, Aada och Artu från Wasa, Finland
_______________________________________
Vi takker for oss denne weekenden. Stugan var helt fantastisk og vi har vart heldig med vadret. Tur till Nyköping, STockholm og Kolmården har også gjort det slik at vi har hatt det supert. Barna likte specielt hönene og hanen og det ble extra spennende när hesten kom. Takker for oss og kommer gjerne tillbake!

Wenche & Thor Nygård fra Tronheim og Eirinn, Espen, Max & Lukas Tho Nygård fra Oslo
_______________________________________
Tack för en trevlig lillsemester med trevligt bemötande och mysig stuga. Även om vädret inte var med oss åker vi härifrån med många glada minnen. Kommer att rekommendera eran gård varmt för vänner och bekanta.

Familjen Andersson - Westberg
_______________________________________
Thank you very much for your amazing hospitality! You have made our stay very pleasant. We enjoyed the quietness of your farm, and looking for deers and elks in the evening. Also thanks for the beautifull boattrip in the archipelago - wonderful!

Christa and Wynand from the Netherlands
_______________________________________
Thanks for at lovely stay! Our little one enjoyed the lion upstairs. Have a happy spring and summer.

Sofia and Daniel from Bålsta and Ruth, Karen and Lilian from St Catharines, Ont, Canada
_______________________________________
Tack för denna gång! Supermysig stuga som vi hoppas få komma tillbaka till.

Stefan och David
_______________________________________
Dear Henrik and Katarina, thank you so much for welcoming cottage and your kindness. Hope to get back soon, we had such a good time here.

Hamid from Iran and Anna from Budapest
_______________________________________
Tack för denna gång. Fanns inget vi saknade. Önskade bara vi hade haft mer tid att vara i stugan än att flänga runt överallt. En lisa för själen att vara här!

Sanna och Vallo med hunden Rex
_______________________________________
We had a fantastic stay in this lovely cottage! Thank you for your hospitality, we really would like to come back again sometime!

Best Regards Francois, Priscilla, Anni, Andre and Raoul from The Netherlands
_______________________________________
We really enjoyed our stay here. It is truly a beautiful little house to stay in. Thank you for your hospitality. We will definetly recommend this place.

Regards Jader family
_______________________________________
I Sörmlands vackraste tänkbara vårvinterväder fick jag förmånen att inrätta mitt tillfälliga "högkvarter" i er mycket smakfullt renoverade Stallmästarlänga. Jag har arbetat med min 12:e bok i serien om det svenska kulturlandskapet. Det har blivit mer än 40 års kringflackande tillvaro och nu har alltså Öllsta Gård sällat sig till de platser där jag efter långa arbetsdagar fått känna mig hemma. Jag tackar för denna tid och jag utgår ifrån att vi snart ses igen. Det är säkert två års arbete kvar innan boken om Södermanlands landskap är klar.

Björn Gidstam, konstnär och författare från Småland
_______________________________________
Landed late at Skavsta airport. This is a nice and quiet place to stay for the night.
Now we drive further north.

Paulette, Marian and Pieter from The Netherlands
_______________________________________
We really enjoyed our stay in this lovely house. Thank you for all your hospitality! It made our stay a lot easier and we specially liked our visit to the forest. We hope to visit this place sometime again. We will bring you some tulips.

Gerben and Inge from The Netherlands
_______________________________________
Vi har haft jättekul! Snälla hundar att hälsa på och vi fann ett härligt hund-spa i gödselstacken.

Hundarna Helga och Niklas och Birgitta och Lars Ånséhn.
_______________________________________
Tack så jättemycket för att vi med så kort varsel fick komma hit över nyåret med våra skotträdda hundar. Tack också för ridturen i skogen.

Bella och Benny och de små liven Basse och Trassel.
_______________________________________
Thanks for all the things you did for us. The place is really nice and Stockholm is beautiful. I like the quietness of this place. I think I will miss Sweden. I hope we keep in touch.

Ernesto Palumbo with family from Milano.
_______________________________________
Tack för en jätteskön och avkopplande helg i er superfina och mysiga stuga. Vi har haft det toppen!

Maria och Micke
_______________________________________
Thanks for the good hospitality. Hopfully we can stay here again - and a bit longer than two nights.

Steffen family from Belgium
_______________________________________
Thanks for the wonderful time and your great hospitality. We love Sweden! The boattrip around the archipelago was thruly fantastic. We will really miss this place and hope to return some other time, maybe in Christmas to see the landscape in the winter. We love your animals too, expecially Egon, his a great dog!

Regards Ray, Audrey, Mignon and Aden from Malta
_______________________________________
Stort tack för en härlig vecka i er fantastiska lyx--stuga! Vi ha rinte hunnit med hälften av allt som finns att göra i trakten så vi måste komma tillbaka snart igen.

Familjen Sjöstedt från Täby
_______________________________________
Vi vill tacka för ett supermysigt boende och bra service. Vår son Elias tycker så mycket om era höns och era fina hundar. Ha en fortsatt trevlig sommar!

Marie, Patrik och Elias från Gotland
_______________________________________
Thank you for our good time at Öllsta!

Gretings from Christian, Kerstin, Lydia, Benjamin, Sophie and Debora from Germany.
_______________________________________
Vi tackar för denna underbara, härliga och sköna vecka. Ni är verkligen servicevänliga. Julia kommer sakna era fina hundar med bl a agillity som hon gjorde dagligen. Hundarna var verkligen underbara och deras sociala närvaro var mysig. Tack för alla utflyktstipsen.

Malin, Håkan, Sofia, Julia Larsson och Kajsa från Kristianstad.
_______________________________________
Som gjester på granngården i helgen var det godt a sove i dette vakre huset! Tusen takk för oss.

Ansgar og hans tre damer Aino, Greta og Hanna fra Norge.
_______________________________________
Hjärtligt tack för en fin och rogivande vistelse i ert fina och trivsamma hus. Stort lyxigt badrum, super-TV och modernt kök, väldigt fint alltsammans. Vi hoppas komma tillbaka ett annat år och önskar alla i familjen allt gott, det gäller även djuren!

Mary och Joachim Marback från Eifelområdet i Tyskland.
_______________________________________Vi har haft en toppenvistelse i er fantastiskt fina stuga. Det har inte varit några som helst problem att roa sig i närområdet. Kolmården, Söderköping, Trosa, Bergs slussar, Dinosaurieutställningen i Norrköping har hållit oss fullt sysselsatta. Vi rekommenderar definitivt denna toppenstuga till alla andra!

Anna, Peter, Lisa och Johannes från Falun.
_______________________________________
Huset har överträffat våra förväntningar, fint fräscht och välutrustat. Barnen älskar hunden Egon och eran trädgunga och ville inte åka härifrån. Ett mycket generöst och mysigt B & B som vi gärna rekommenderar till andra. Vi vuxna älskade kaffemaskinen också!

Familjen Leifler-Söderlund från Stockholm och Lind-Andersson från Linköping.
_______________________________________
Har alltid velat bo på en gård med djur. ert Öllsta är som en dröm. Vi ska varmt rekommendera boendet till vänner och bekanta. Vi tar med oss massor av fotografier av er gård och djur och ännu fler minnen. Tack för gästvänligheten.

Anna Borg, Christer Oliver William Birgitta och Roger Olsson från Wales respektive Umeå.
_______________________________________
Tack för ett väldigt trevligt och fräckt boende. Trots att vi var åtta personer och hund upplevdes det inte som trångt. Perfekt avstånd till Kolmårdens djurpark. Vi kan verkligen rekommendera det vidare till andra.

Malin, Magnus, Sara, Lina, Kerstin och Lasse från Göteborg samt Ingrid och Lars-Åke Strömberg från Huddinge.
_______________________________________
Tack för ett mycket trevligt boende och goda ägg. Thea kommer sakna era härliga höns med sin herre.
Tacksamma för extraservicen med hundvakten av Kippe. Vi syns säkert igen för här kan man bo fler gånger.

Robert, Louise, Thea och Elwin från Malmö
_______________________________________Dags att åka hem efter en härlig helg på Öllsta. Tre par har utkämpat kampen mellan männen och kvinnorna i grenar som kubb, sällskapsspel, singstar, bowling, lasergame och puttning på golfbanan. Vi tjejer tog hem segern! Vi har njutit av trevligt sällskap, god mat och ett mycket bra boende. Denna stuga kommer rekommenderas varmt till vänner och bekanta.

Helena och Fredrik Lindholm, Anna och Magnus Eriksäter och Ulrika och Markus Engström.
_______________________________________
Vilket härligt boende! Vi besökte orrkojan vid Stora Bötet i morse och såg fem orrtuppar men tyvärr inget spel. Tack för bärhjälpen med kamerautrustningen.

Christer Wastesson och Yvonne Bäckstedt, Filmhuset AB, Östra Ryd.
_______________________________________We were all exited to return to Sweden (rented the cottage last year too) and the rest of the family to experience the beauty, relaxtion and cold of your country. We had a wonderful weekend and felt so welcome and cozy returning to the cottage each evening. Thank you for your gracious hospitality.

Gabe, Becky, Ashlin, Jonah, Natalie and Lucy Turcsanski. Widbey Island, WA, USA
_______________________________________
Det här var långt över våra förväntningar. Tack för gästvänligheten och bokningen av vår hästslädtur, den var underbar. Er stuga var supermysig och det fanns mer saker än vad man hade trott. era hästar var jättefina och fluff-hundarna gudomliga. Räkna med samtal från våra nära och kära om ytterligare bokningar.

Sabina och Magnus från Stockholm
_______________________________________
Lars och jag har varit otroligt glada över att få bo här. Ni har verkligen skapat en pärla som vi har blivit mycket förälskad i. Tack för er stora gästfrihet. Vi kände verkligen att vi hade semester. Vi njöt av den underbara naturen som ramar in gården. Minnesvärd och lycklig Jul och Nyår. Tack för ert tålamod med våra hundar och vi hoppas vi kan komma tillbaka, då förhoppningsvis med våra två barn.

Lars och Charlotte med hundarna Akela och Rascha från Svendborg, Danmark
_______________________________________Vi har haft det mycket fint och lugnt, precis vad jag och grabbarna behövde.

Joseph från Stockholm
_______________________________________
En underbar vecka i lugn och ro
i vacker stuga - här vill vi bo
Skogen har svampar - står tätt som spön!
Kan rekommenderas - en vistelse skön!

Tack för oss och hundarna!

Birgitta och Mia från Stockholm
_______________________________________Det blev en kort men mycket bra vistelse. Nu drar vi till orienteringsskogen igen och hoppas att denna dag blir lika fin som gårdagen. Tack så jättemycket.

Lisa och Håkan
_______________________________________
Just a perfect living with high standard and peace and quiet. We will highly recommend your beautiful cottage. Many thanks Henrik and Katarina.

Francois-Xavier, Amelie and Romane from France and Camille from Liverpool.
_______________________________________
We have a wonderful stay at your farm. There are som many great things there. We like to pick up our own eggs for breakfast, finding muchrooms in the forest, your fluffy dogs, all this peace and the nature is incredible. But it was hard to find at Internet.

Gregor with family and friends, Slovenia.
_______________________________________
Many thanks for the short but very pleasant stay we had on our way back to France. We enjoyed the quietness at your farm and the charming red cottage so typical of Sweden. Still sorry for the boattrip we missed, but maby another trip to the polar circle will allow us to visit the archipalago in the futhure.

Merci beaucoup! Adriane, Christian, Celine and Arnand from Toulouse France.
_______________________________________
Tack för fantastiskt fint boende, kalasgoda frukostägg och trevligt hundsällskap. Jättemysigt!

Kristina o Anders, Jonas och Emma, Olof och Lina, Martin och Tomas samt Jonas. Alla från Uppsala.
_______________________________________
På väg till Kolmården stannade vi till här och myste under ett trevligt dygn. Underbart att få hämta färska ägg direkt från hönsen. Tack Katarina med familj för ett nyfunnet och trevligt Bed & Breakfast!!!

Karolina, Micke, Quinny, Selma, Maria, Erik, Nora och Edvard.
_______________________________________
Var här och sov och åt och besökte Stockholm och Kolmården. Mycket nöjda med boendet. Fräscht och hemtrevligt.

Maria, Joakim, Emelie, Loffe och Alex från Svenljunga
_______________________________________
Katarina and Henrik you are two special people. You have made our stay very pleasant. Sweden is a beautiful country and we remember this experience forever!! We hope to see you in Italy. TACK SÅ MYCKET! (I hope this is right)

Monica, Maurizio, Ilaria, Valentina and Nicolo from Ravenna
_______________________________________
Tusen tack för jättemysig bostad och all hjälp och idéer till fina utflykter! Till nästa gång. Två hemskt nöjda Berlinare.

Marko och Jana, Berlin
_______________________________________
Tack för ett fint boende och att ni accepterade våra hundar! Vägbeskrivningarna var värdefulla. Två mycket nöjda gäster.

Lena och Janne, Stockholm
_______________________________________
Vilket ställe! Så fint och genomtänkt stugan var i varje detalj. Det var så roligt att vi fick hämta våra egna frukostägg!. Vi kommer gärna tillbaka, tack för allt!

Familjen Vådegård, Uppsala
_______________________________________
Vi har fått bo i den vackra gäststugan. Tack för en väldigt trevlig Valborgsmässoafton. Lite regn men vad gjorde det oss. Grillen kunde stå under farstukvisten. Ha en bra födelsedag.

Katta, Janne och Daniel , Oxelösund
_______________________________________
We hade a wonderful visit! Thank you four amazing hospitality and for sharing your part of Sweden with us. This is a beautiful fountry in the winter. We woul enjoy a visit in the summer. Perhaps we will return . . .

Many thanks Gabe, Ashlin and Jonah, Washington USA